Die US Justiz, das FBI ermittelt in diesem Fall: Wo Edi Rama's US Albanischer Freund: Bilal Shehu hat sich  schuldig bekannt.
FBI:
Pursuant to his plea agreement, Shehu, a U.S. citizen living in New Jersey, admitted that in September 2012, he received approximately $80,000 from a foreign source and provided it to a joint fundraising committee—including the authorized campaign committee of the president—in an effort to disguise the true origin of the money and so that a foreign national could attend a campaign event on Oct. 8, 2012, in San Francisco.  Federal law prohibits foreign nationals from making contributions to federal candidates or fundraising committees.  In late September 2012, Shehu received an $80,000 wire transfer into his New Jersey-based bank account from a foreign bank account, knowing that he was to provide it to the joint fundraising committee, he admitted.  Shehu admitted that in early October 2012, he flew to San Francisco and attempted to gain entry into the San Francisco fundraising event
Albanian opposition party claims PM illegally funded Obama campaign
Edi Rama accused of funneling $80,000 to 2012 re-election
Albanian Democrats say money is a violation of US and Albanian laws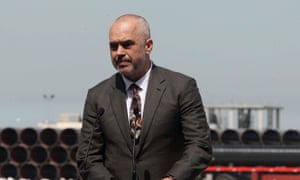 Albania's opposition Democratic party made a criminal complaint against Prime Minister Edi Rama on Monday, accusing him of illegally funneling $80,000 to Barack Obama's re-election campaign in 2012, in return for a photograph of the two men together.
The Democrats brought the case to the prosecutor general's office, saying Rama – who was then the opposition leader – paid the money in violation of US and Albanian laws to gain access to a campaign event in San Francisco in October 2012.
Last week Bilal Shehu, 48, a US citizen of Albanian origin, pleaded guilty in federal court in New Jersey to willfully making foreign contributions and donations to the Obama campaign.
Rama has denied taking part in "any of President Obama's electoral meetings" or that he paid for tickets to the San Francisco event, although he acknowledged meeting Shehu as "a member of the Albanian community in New York".
"Edi Rama has committed at least three criminal acts … and personally profited from that," said Democratic lawmaker Eduard Halimi after handing over the request.
At the time, Rama proudly used the picture with Obama, months before parliamentary elections brought his Socialist party to power.
"Premier Rama has no connection with any kind of illegal funding," a statement from Rama's office said, "and the only 'crime' he committed in 2012 is that he had a picture with the US president at a time when the Albanian government and its chief had the doors closed and Albania's international relations suffered."
It was not clear if prosecutors would decide to investigate………………………
https://www.theguardian.com/world/2016/jul/04/albanian-opposition-party-claims-pm-funded-obama-campaign
FOTO/ Fotoja e Ramës, The Guardian: Edi Rama financoi në mënyrë të paligjshme fushatën e Obamës
Lajmi i fotos së Edi Ramës me Barack Obamën dhe akuzat për financim të paligjshëm nga ana e kreut të ekzekutivit shqiptar ka zënë faqet e mediave botërore.
E përditshmja britanike "The Guardian" shkruan se Partia Demokratike e Shqipërisë ka bërë një ankesë penale kundër kryeministrit Edi Rama këtë të hënë, duke e akuzuar atë për kalim në mënyrë të paligjshme 80,000 dollarëve në fushatën e rizgjedhjes së Barack Obamës në vitin 2012, në këmbim të një fotografie.
"Demokratët çuan rastin në Prokurorinë e Përgjithshme, duke thënë se Rama – i cili atëherë ishte kreu i opozitës, ka paguar paratë në kundërshtim me ligjet shqiptare dhe të SHBA-së.
………………….
http://www.syri.net/2016/07/05/foto-fotoja-e-rames-the-guardian-edi-rama-financoi-ne-menyre-te-paligjshme-fushaten-e-obames/
eben Ziegen hüten, max. noch für Albanische Partys ist man geeignet

Man ist in einer Irrenanstalt mit dieser Regierung, wobei das Spektakel mit über 1 Milliarde € jeweils von der EU, Deutschland und den USA finanziert wird. Ein profitables System die Rein Kultur der Kriminalität, Dummheit, Inkompetenz und totalen Korruption, wie auch dieses Video auf dem Youtube Canal der Regierung, des Ministerpräsidenten zeigt. Der inkompetende Gangster Edi Rama darf sich austoben mit Hitler Parodien der übelsten Art, mit Angriffen auf den Britten wie Lordkanzler Gove, oder Farage.

Lange Leitung bis man merkt, das man "functional illerate" totale Dumm Gangster vor sich hat. Ich persönlich merke das praktisch meisten in wenigen Minuten, also muss man die Kompetenz von hoch rangigen Diplomaten hinterfragen und angeblichen Experten.